Customer Testimonials for Corcovado Osa Costa Rica Eco Adventures Itinerary
Testimonials
Cheryl Davis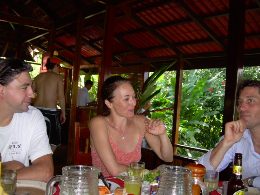 Hey Jeremy!

"I can't begin to thank you enough for arranging my trip to Costa Rica. Thinking back you did so much and arranged everything so flawlessly it was if I had lived there all my life. I really appreciate all of it.  The effort you put into showing me around, introducing me to all of your local friends.  You've done a beautiful job creating a life in there. I'm so fortunate to have been able to do the trip the way I did.  The osa is almost surreal...and looking back it has only gotten better as I think about it. What an incredible opportunity for me to break out of my little sheltered life i've been living in for too long and to do it in a safe place yet very far away from my world.

Waking up in my house was weird...I missed the light, colors and sounds of the jungle. It felt so unnatural being here...so cold and grey.  The way the sun hits everything has really made such an impact on me...I can close my eyes and still see it. its different from anywhere ive been for some reason. I love the way the light shines through the banana leaves as you lie in bed and wake up in the morning, along with the sounds, that was probably the thing that has really stayed with me every minute since I got back. I miss it terribly. there is something so peaceful about that.

I came home and looked around and wanted to sell everything I own. Its made me look at how little we need to feel really good. It was nice to spend the week with you and just enjoy it in every aspect of the word. My friends would die in a couple hours without room service and blow dryers...lol! I was just talking to my friend Adrienne and she asked if its a bad hair place? I laughed and said I never looked worse in my life but hey I had the time of my life.

I had an amazing week and learned a great deal at the same time......I cant thank you enough.
Cheryl Davis, San Francisco, CA
Andy Graham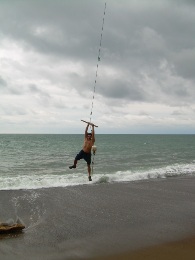 Jeremy,
First I want to say I can see why you live in Costa Rica, what a beautiful place!    Mostly I wanted to write and thank you though, what an amazing you trip you put together for our family. Everything went off without a hitch.   Your knowledge of Costa Rica was incredible and maybe your not a naturalist guide by trade but you sure know an awful lot.   Having us get up early and go to Sirena was a great call.   I know my kids will never forget the experience.  Seeing those whales breaching on the way home was very special.  For me the helicopter damsel fly was the most memorable.  You really have a knack for understanding your customers, when to push us to adventure and when to relax.  Trying all those different fruits was really cool too.     I hope you realize your goal of the preserve and we appreciate you taking the time out of your work days to spend with us.   I have recommended to all our friends they plan a vacation with you.   Thanks again from all of us.
Cheers,
Andy Graham, Austin, TX