Costa Rica Osa Peninsula Fishing Grounds & Species Descriptions Including Offshore & Inshore Structure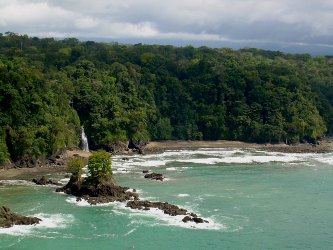 The Osa Peninsula & Corcovado National Park - "The most biologically intense place on Earth"

The Osa Peninsula located on the south west Pacific coast of the country is home to Corcovado National Park and the Osa Conservation Area.   This area is one of the most beautiful places in Costa Rica.   After many years in the country this is where we settled to live and work. 

Considered the crown jewel of national parks and biological reserves across the country, Corcovado encompasses an area of 263 square miles, the ecological variety is stunning and is one of the most important places environmentally in the world.    Located on the wild and untamed Osa Peninsula, this national park is breathtakingly beautiful and is one of the remotest parks in the country. Home to the largest and only tropical primary lowland rainforest in the world, the park is also the habitat of a plethora of endangered plant and animal species.

Corcovado National Park contains the largest primary forest on the American Pacific coastline and one of the few remaining sizable areas of primary tropical forest in the world.  An amazing abundance of wildlife lives in more than thirteen varietal types of vegetation including mountain forest, cloud forest, jolillo forest (palm swamp), prairie forest, alluvial plains forest, swamp forest, freshwater herbaceous swamp and mangrove, together holding over 500 tree species.  The great diversity is that park lies on the "land bridge" wildlife corridor that links the large continents that of North America and South America.

The park is known to have 124 species of mammals; 375 species of birds; 117 species of reptiles and amphibians (2 crocodilians, 4 sea turtles); 66 freshwater fish species; and 70 species of marine crabs.  Among the mammals are a population of endangered Baird's Tapir and critically endangered Harpy Eagle.   Cat species include Jaguar, Ocelot, Margay, Jaguarundi, and Puma.  There are 4 monkey species including the endangered Central American Squirrel Monkey, White-faced Capuchin, Mantled Howler, and Spider Monkey.  Also, Two-toed and Three-toed Sloth, Northern Tamandua and Silky Anteater.

With over 90% of prescription medications used having come from the the tropical primary rainforest and area being "The most biologically intense place on earth.   It is a must do experience for anybody with the opportunity to visit.