About Costa Rica On The Fly Sportfishing Adventures Travel Services & Fishing with Captain Jeremy Librett

WE CATCH FISH
Since 1992 we have specialized in sport fishing trips to Costa Rica with a niche for fly and light tackle anglers although we are excellent at bottom fishing and live baiting.
Our trips are turn key and we take care of everything upon arrival in country. 
After fishing out of Quepos and the Los Suenos Marina for many years we moved to the Osa Peninsula for its amazing offshore and inshore fishery located nearby and without the crowds.
You will find a variety fishing itineraries to fit many budgets and the ability to choose or combine, offshore, inshore, and kayaking, with the use of diesel boats, outboard boats and sea kayaks.  
"Captain Jeremy, Court and I had a fabulous time fishing with you and Marvin those four days -perhaps the best ever.  Your knowledge of the area, the fish, the techniques, boat handling, combined with your energy and enthusiasm is without comparison.  We have fished all over the world - and you really stand out!   We will be back to explore other areas with you - but can't imagine anything better.

Rich Sutter, Brookline, MA
We have close twenty years of experience living, fishing and arranging travel to Costa Rica and look forward to getting you set with a great adventure travel or fishing trip to our neighborhood!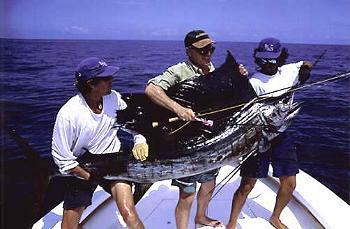 Costa Rica "No Artificial Ingredients"
Costa Rica is the ideal tropical paradise for your vacation where you can enjoy pristine beaches and see whales and dolphins play.  For Nature lovers there is a great variety of exotic wildlife and tropical plants. Butterflies and orchids, crocodiles and sharks, turtles and Toucans´ are everywhere. The rainforest covering the mountains are incredibly beautiful.
Life is good in Costa Rica, a friendly, democratic and safe and peaceful country.   For an active vacation you can surf, hike, go white water rafting, canopying, diving, fishing and snorkeling.  For a relaxing vacation their are some very tranquil spots and a couple nice glf courses too.  Costa Rica is also a great fit for any budget.
Costa Rica is also very easy to get to from all over the United States and generally very affordable.  Their are many direct flights from all parts of the Unites States.  Direct from New York and Denver is 4 hours and 30 minutes and 5 hours from Los Angles.   Houston and Miami. roughly 2 hours.
Come and enjoy, you are guaranteed to love it!
Offshore Fishing and Inshore Fishing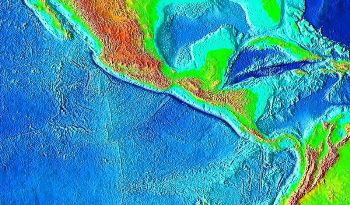 Drake Bay is a remote, beautiful place nestled in the northwest corner of the Osa Peninsula at the gateway to Corcovado National Park. Formany years it could only be reached by boat or charter plane.  Our customers travel here for it's inherent natural beauty and phenomenal inshore and offshore fishing.
After fishing northern Costa Rica from 1992 to 1997 than out of Quepos and Los Suenos from 1997 to 2004we settled on this region due the quality of the fishing grounds accessible and the lack of crowds on the water.   This area is the crown jewel of a country rich in world class fishing spots.
This is a paradise for both the offshore and inshore fisherman.
Inshore Structure & Species
The inshore structure in our area is phenomenal.   It's varied, their is a lot of it and it's all close.    We have bays with long stretches of beach,  rocky shore lines, submerged rocks and various size river mouths.   All this lies in a beautiful, jaw dropping tropical setting where the rain forest comes down to the beaches.   You fish amongst the whales and porpoise while seeing the canopy teeming with wildlife like monkey's and Scarlet Macaws.   This is the most ideal area for kayak fishing in Costa Rica and world class.
The target fish species also vary greatly.  Roosterfish would be a prize catch along with a Cubera (Dog Tooth) Snapper.  We have various jacks like cravalles, blue star, blue trevally, horse eye, etc.  Various snapper like mutton, guacamaya and spotted.  We have various grouper, spanish mackeral, snook  and an abundance of tropical fish like trigger fish.   The inshore fishing is hard work but it is exciting and rewarding.
Offshore Structure & Species
The Middle America Trench is an oceanic trench in the eastern Pacific Ocean stretching from central Mexico to Costa Rica. The trench is 1,700 miles long and is 21,880 feet at its deepest point. It is currently the 18th deepest trench in the world.   This trench is the a major part of our fishing structure.   Off the northern Osa we have a variety of peaks, drops, corners and banks.   The run from our neighborhood to 6,000 is the closest in Costa Rica.   Just offshore of us lies Cano Island and benid this island has a bank that drops from 300' to 1,200'+, it is very similar to the famed Herradura Bank.   We also are in range to the Foruno Bank a Black Marlin honey hole.   Fishing from Drake has always been different than Quepos, Los Suenos and northern Costa Rica, it's more pelagic.  We have great yellowfin tuna fishing, big time marlin grounds and a few very productive sailfish spots.   Inshore of the island we have a consistent Mahi Mahi/Dorado and Wahoo bite being the blue water splits off at Cano Island and heads inshore. 
Our offshore species include Black Marlin, Blue Marlin, Striped Marlin, Sailfish, Yellowfin, Big Eye and Dog Tooth Tuna, Dorado, Wahoo and the occasional Thresher Shark.  The beauty of Costa Rica is the consistency and opportunity for epic days.